There were no results found.
There were no results found.
Karin Svensson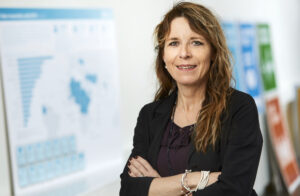 Karin Svensson is Senior Advisor at Sida's department for Partnerships and innovations and with a special focus on private sector collaboration and financing for development. She is Sida's project manager for Global Investors for Sustainable Development Alliance, GISD, convened by the UN Secretary General, an initiative she has worked on already since it was an idea in 2018. Karin is also coordinator of Sida's committee for Financing for Development. Previous positions at Sida include staff member and senior advisor at the Director General, project lead and initiator of Swedish Investors for Sustainable Development.
Prior to joining Sida in 2014, Karin was news director at Sweden's Business Daily, Dagens industri, leading the daily news work at the paper. Part of the time she followed the financial markets and with a special assignment to follow and comment on breaking news and the mutual fund business, a position she held for over 20 years. In 2012 Karin started a new dimension of coverage of sustainability and in 2013 initiated and engaged in Dagens industri's first Conference on sustainability and Conference on doing business in Africa. Prior to Dagens industri Karin worked at Swedish Export Credit Cooperation and at the financial department and the economic department.
Karin has lived in Greece, Kenya and California for longer periods, for work, studies and other engagements.