There were no results found.
There were no results found.
Katherine Renfrew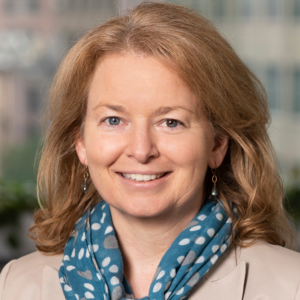 Katherine Renfrew is a managing director with Nuveen, responsible for managing emerging market fixed income investments for the firm and, in particular, TIAA, which purchased Nuveen in 2015.  Ms. Renfrew has over 25 years of investment experience and has been a portfolio manager since 2004.
Ms. Renfrew co-manages Nuveen's emerging markets debt strategies and is the Lead Portfolio Manager of TIAA-CREF's Emerging Markets Debt fund, which received Refinitiv Lipper's 5-year Individual fund award in 2020.  Ms. Renfrew has been the Lead PM since the Fund's inception in 2015 and has managed TIAA's blended emerging market strategies since 2004.  Currently, she has lead sector responsibility for emerging markets corporates and quasi-sovereigns in both hard and local currency, and for all developed markets quasi-sovereigns, excluding U.S. and Canada.  She co-manages Nuveen's emerging market sovereign portfolios.  From 2005 to 2014, Ms. Renfrew was the primary Portfolio Manager overseeing Emerging Market Debt strategies for TIAA, including sovereign (both hard currency and local currency).  Today, she is also the lead PM of Nuveen's Emerging Market Corporate strategies, the co-PM of a dedicated Emerging Market High Yield strategy (blend of sovereigns and corporates), and a co-PM for the Nuveen Strategic Income open-end fund and the Nuveen Global High Income closed-end fund.  TIAA's emerging market debt exposure accounted for $12.8B on a market value basis as of 12/31/22.
Ms. Renfrew joined TIAA in 1997 and held several roles relating to emerging markets during her tenure, including South American regional analyst/PM and trader, portfolio manager for the firm's investments in Eastern Europe, Middle East and Africa (EMEA) regions, and the Asian regional analyst/PM and trader.  From 2005 to 2007, she managed the Emerging Market Debt team, which consisted of 5 professionals. Before joining the firm's Emerging Markets team, Ms. Renfrew was a member of its Structured Finance team, which analyzed CLO/CBO managers, export receivable deals, and other ABS transactions.
Prior to joining TIAA, Ms. Renfrew was a fixed-income securities analyst at MONY Capital Management and a financial analyst at Mattel Toys. In 2018 and 2019, Katherine was ranked one of the Top 20 female portfolio managers in the United States by Citywire Professional Buyer magazine.  Ms. Renfrew holds a B.S. in economics and a B.S. in engineering from the University of Michigan and an M.B.A. in finance and accounting from the Columbia Business School at Columbia University.
As a leading global investment manager, TIAA has $1.1 trillion in asset under management as of December 31, 2022.