Membership Committee
About This Group
The Membership Committee reviews and approves all prospective member applications and makes recommendations to the Board of Directors as to guidelines for membership. It helps develop and evaluate member benefits, reviews special offers, and looks for new member-recruitment methods. Programs include the Annual Dinner and other member-networking events.
Join Group
Kampo Pal, CFA

Kampoleak Pal, CFA, is a senior director specializing in equities risk management, commodities and hedging programs. He also manages all derivatives overlay activities including interest rate, currency, credit and equity derivatives. Prior to joining Guardian in 2008, Kampo spent two years at Constellation Energy, where he was a director in the global credit risk management group and was responsible for co-managing the credit portfolios and defining and implementing credit hedging strategies. Before that, he spent 11 years at The Dow Chemical Company, serving as a fixed income portfolio manager and financial risk manager with responsibilities that included managing foreign exchange exposure. Kampo has over 20 years of investment experience. Kampo holds an engineering degree in computer science from EISTI, Paris, and an M.B.A from the Wharton School, University of Pennsylvania. He has a Chartered Financial Analyst (CFA) designation and is a member of the CFA Institute and the CFA Society New York.
Peter Sang, CFA

Peter Sang, is a Research Analyst on Lazard Asset Management's Emerging Markets Debt team covering global EM sovereign credits. Prior to joining Lazard, Peter was responsible for Enterprise Risk Management at ING Bank fsb. While at ING, he also had roles at ING Investment Management in the Latin America Investment Office. Peter also served as an Advisor for the Central Bank of Chile where he developed an Early Warning System (EWS) model of countries at risk of a sovereign downgrade in their international investment portfolio. Peter is a graduate of Columbia University's Program in Economic Policy Management (PEPM), a specialized degree in economic policy making for emerging markets. Peter also has an MBA from the University of Western Ontario Richard Ivey School of Business and a Bachelor of Commerce from McGill University in Canada.
David Motsonelidze, CFA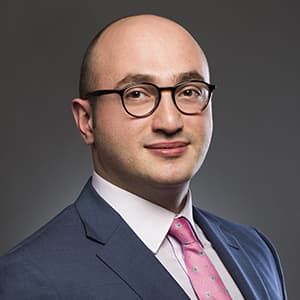 David Motsonelidze, CFA, is a Director of Macro Strategy at Stifel. In this role, he leads a coordinated effort in the area of macroeconomic analysis for Stifel CIO Office. He conducts deep research and quantitative analysis across most investment activities for the team and is a member of the Investment Committee. His responsibilities also include leading a collaborative team approach in the production of the AM SitRep, Weekly SitRep, Research Brief, and Favorite 15 publications.
Mr. Motsonelidze joined Stifel as part of its 2015 acquisition of Barclays Wealth and Investment Management, Americas, where he was an Investment Strategy Analyst. Prior to Barclays, Mr. Motsonelidze was an Equity Analyst at Bloomberg, covering global equities. In this role, he conducted industry research and built and maintained financial models to gauge companies' operating and financial performance.
Mr. Motsonelidze earned an MBA from Columbia Business School (completed while working full-time) as well as an MSc in Finance from Manchester Business School in the U.K. (graduated at the age of 20) and a BA in Finance from International Black Sea University in the country of Georgia. He was awarded a George Soros Foundation scholarship to attend the American Institute on Political and Economic Systems in the Czech Republic (AIPES 2007) and is an alumnus of the Future Leaders Exchange Program (FLEX 2004) funded by the U.S. State Department.
Mr. Motsonelidze holds Series 7 and 63 licenses. He is a Chartered Financial Analyst® (CFA®) charterholder and a member of the CFA Society of New York, the CFA Institute, the Economic Club of New York, the Adam Smith Society, and the New York Association for Business Economics. He is currently a Chair of the Membership Committee and Vice Chair of the Alternatives Investment Group at the CFA Society of New York.
Ron Dadina, CFA

Ron Dadina has over 20 years of experience in corporate, structured and project finance transactions in Latin America and emerging markets. He is currently the Portfolio Manager in the LATAM group at Bank of Tokyo Mitsubishi (MUFG). He also served as the Chief Credit Officer of Minlam Asset Management LLC, a hedge fund based in New York. Before Minlam, Ron was a Managing Director in the Emerging Market Debt Capital Markets group at Bear Stearns. Prior to Bear, he held positions at MBIA and Fitch Ratings focusing on LATAM and emerging market structured and project finance transactions. Ron has an M.B.A. from the University of Chicago's Booth School of Business. He is a CFA charter holder, a member of the New York Society for Securities Analysts and the Indian Institute of Chartered Accountants.
Upcoming Events & Meetings
There are no upcoming events.