There were no results found.
There were no results found.
David Fass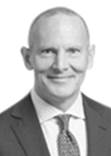 David Fass was appointed as the Head of Americas for Private Markets in April 2019. He is responsible for overseeing the asset management activities for the business across the Americas and sits on the investment committees of several of the funds.
Prior to this role, David was the Chief Executive Officer of Macquarie Group's operations in Europe, the Middle East and Africa (EMEA).
David's financial services career spans over 30 years with expertise founded in capital markets and advisory. He has had active involvement in emerging and frontier markets and takes a keen interest in the developing thematic of balancing growth opportunities with prudent risk management.
David's career began on Wall Street at Paine Webber (UBS) and JPMorgan (Chase Manhattan Bank) before moving to London. In London he spent 11 years at Deutsche Bank where he held various senior management and client-facing roles, including European Head of Global Banking and was a member of the Global Banking Executive Committee.
In addition to his Macquarie Asset Management responsibilities. David is a member of Macquarie's Americas Management Committee.
David has an MBA from the Stern School of Business at New York University and a BA in Economics from the University of Michigan.