There were no results found.
There were no results found.
Joseph Kinard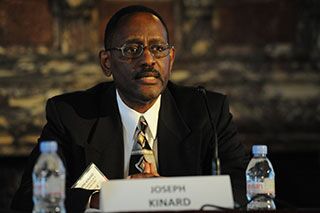 Joseph M. Kinard is Chair of the Presbyterian Church (USA) Committee on Mission Responsibility Through Investment (MRTI) which was created in 1971 to advance the church's mission through the financial resources (approximately $10 billion dollars) entrusted to it. MRTI implements the PCUSA policies on socially responsible investing (also called Faith-Based Investing) by engaging corporations in which the church owns stock. Priorities for MRTI include: pursuit of peace; racial, social and economic justice; environmental responsibility and securing women's rights.  
Mr. Kinard, through his company The Kinard Group,LLC has helped companies in obtaining venture capital, mezzanine and angel financing representing both capital funds and their portfolio companies. During his tenure as Board Member of the Presbyterian Church (USA) Board of Pensions, Mr. Kinard served on the CEO Search, Investment, Board Development and Governance, Social Responsibility and Church Relations Committees. 
 In addition, Mr. Kinard served as a reviewer of the Presbyterian Church (USA) Foundation investment strategy. He is an acknowledged subject matter expert in Corporate Socially Responsible/Impact Investing (CSR II) having spoken at Institutional Investor Summits sponsored by The New York Stock Exchange, NASDAQ,Thomson Reuters, High Water Women's Investing for Impact Symposium, Guest Lecturer at The University of the South Babson Center for Global Commerce and Yale University School of Management. Mr. Kinard was recently inducted into the National Association of Securities Professionals (NASP) Wall Street Hall of Fame. NASP is the oldest organization in America supporting women and minorities in the financial services industry.