There were no results found.
There were no results found.
Kimberly Stockton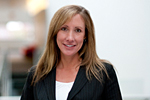 Kimberly Stockton is a Senior Manager and Investment Research Strategist in Vanguard's Investment Solutions Group. In this role, Kim and her team conduct investment research and analysis to evolve and inform new investment tools, services, and portfolio construction solutions for Vanguard. Recent research topics include Target Date Fund strategies for retirement income, high yield bonds' role in a portfolio , and inflation protection. Prior to this, Kim was a Senior Investment Research Analyst in Vanguard's Investment Strategy Group for more than 15 years . In this role , Kim published internally and externally on various investment topics includ ing , private equity, tactical asset allocation, pension plan investment strategy, and single portfolio solutions methodology.
Kim earned a B.A. in economics from the University of California at Berkeley and an M.B.A. from Villanova University.