There were no results found.
There were no results found.
Maria Weitzer, CFA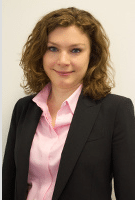 Maria Weitzer, CFA, is Senior Investment Risk Manager at APG Asset Management US, a Dutch pension capital investment management firm and one of the largest public pension fund managers in the world. Maria is focused on analyzing, reviewing and providing approvals of investment opportunities across strategies and asset classes. Prior to APG, Maria was Director, Portfolio Management at TAG Associates LLC, a multi-client family office and portfolio management services firm with more than $8 billion of assets under management. Maria was responsible for manager research in public markets strategies and also served as portfolio manager to client accounts. She was a voting member of TAG's Investment Committee. Prior to joining TAG, Maria spent over eight years at Asset Alliance Corporation, most recently as Director, Research and Investments, focusing on manager research and due diligence across various strategies and asset classes as well as managing client portfolios. Prior to Asset Alliance, Maria was at Deutsche Bank where she performed risk management and monitoring functions for Deutsche Bank's managed account platform. Prior to Deutsche Bank, she was an auditor at the Financial Services division of KPMG LLP. Maria received her B.A. in Accounting and Management from Hartwick College. Maria has been actively involved with the CFA Society New York for over 10 years and currently serves on the Board of Directors of CFANY as Vice Chair.