There were no results found.
There were no results found.
Nithin Johnson
Director and Family Member, Arcbridge Capital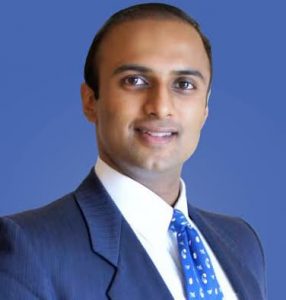 Nithin Johnson serves as a Director of Arcbridge Capital, the investment advisor to the Johnson family office, where he is also a family member. Arcbridge principally invests in controlling positions in US private enterprises, often entrepreneur or family owned, across the areas of healthcare, real estate development, and specialty manufacturing. The family selectively invests in direct venture, low-correlation private markets funds, and owns over one million square feet of US residential and commercial real estate.
Nithin is also an Executive Director of Tikehau Capital, a $25 billion AUM listed pan-European private markets manager headquartered in Paris, France with Americas headquarters in New York. The firm has one of the largest balance sheets in the industry which it uses to invest alongside its strategies in strong alignment with investors. A sizeable proportion of those investors represent families.
Nithin was formerly Head of Americas for International Fund Distribution (IFD) at Citigroup, where he worked from 2010 to early 2019. His team researched and curated funds in private equity, private debt, and private real assets for Citi's institutional investor clients including pensions, insurers, endowments/foundations, and institutional-size family offices/RIAs/wealth managers. The track record of Citi's fund placement business cumulatively raised over $70 billion in LP commitments and Nithin has advised a number of private equity and private debt firms on product and investor strategy.
Nithin holds an MBA from the University of Oxford in England and a Bachelor of Science from The Ohio State University. He resides in New York City and is active in the Oxford University Alumni Association.