There were no results found.
There were no results found.
Paquita Davis-Friday, PhD
Paquita Davis-Friday, PhD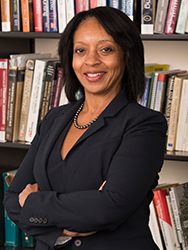 Paquita Y. Davis-Friday is the Senior Associate Dean in the Zicklin School of Business at Baruch College and a professor in the Stan Ross Department of Accountancy. She earned her Ph.D. in accounting, MAE, MAcc and BBA from the University of Michigan-Ann Arbor. Before entering the Ph.D. program, she was as an auditor and tax account for Deloitte and was certified in 1992 by the State of Michigan as a public accountant.
Before joining Baruch College, Dr. Davis-Friday was an assistant professor at the University of Notre Dame and a visiting scholar at the University of Michigan's Ross School of Business and Emory University's Goizueta Business School. Prof. Davis-Friday's primary research interests are executive compensation and pensions. Her work has been published in The Accounting Review, Accounting Horizons, Contemporary Accounting Research and other international accounting journals. As a member of the American Accounting Association's Financial Accounting Standards Committee, Dr. Davis-Friday was a principal author of the Committee's responses to the FASB's Exposure Drafts on Share-Based Payments and Pensions.