There were no results found.
There were no results found.
Taffi Ayodele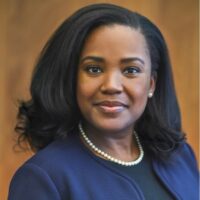 Taffi Ayodele, Director of Diversity Equity and Inclusion and Emerging Manager Strategy for the New York City Bureau of Asset Management. In her role as Director of Diversity, Equity and Inclusion & Emerging Manager Strategy, Taffi Ayodele drives the strategy within the Bureau of Asset Management (BAM) to expand engagement with and increase allocations to Minority and Women-owned Business Enterprises and emerging investment managers. She also has oversight of the Minority, Women and Disabled Veteran – Owned Broker Program and coordinates BAM's annual Emerging and Diverse Manager Conference.
Ms. Ayodele is a seasoned executive with experience in the financial services, technology and real estate sectors. Prior to joining the Comptroller's office, Ms. Ayodele most recently served as a Principal with Harpia Asset Management, a mission-driven real estate investment and development company and co-founded Thando Holdings, a global fashion and technology company focused on creating a global platform for African artists and their fashion products. In 2015, Forbes named her one of the 10 Emerging Women Entrepreneurs to Watch in Africa. Prior to founding Thando Holdings, she served as a Principal of TW Advisory, a boutique small business advisory practice.
Ms. Ayodele began her career at Blaylock Van, LLC, (BRV), Wall Street's longest continuously operated African American investment banking and financial services company. She previously served as Director of the Office of Executive Initiatives at the New York State Dormitory Authority (DASNY), New York State's public finance and construction authority.
She currently serves on the board of the NYU Global Libraries and is a Trustee Emeritus of New York University (2015-2021), The Guyana Economic Development Trust (2018-2021), and New Jersey SEEDS (2017-2019).
Ms. Ayodele earned a BA in Economics from New York University and an MBA from New York University's Leonard N. Stern School of Business.