There were no results found.
There were no results found.
Yuriy Bodjov, CFA
Vice President & Director, Investment Management
TD Asset Management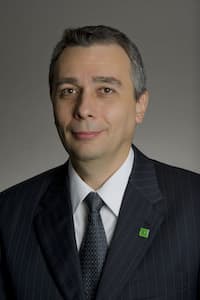 Mr. Bodjov joined TD Asset Management in 2008. He is responsible for the research and development of low volatility, absolute return and derivatives strategies and the quantitative risk modeling. Mr. Bodjov has many years of portfolio management experience. From 2004 through 2008, he was director and portfolio manager at the Caisse de dépôt et placement du Québec where he managed tactical asset allocation strategies. Prior to that, Mr. Bodjov was portfolio manager of U.S. and international equities at Fiera Capital and Elantis Investment Management and fixed income portfolios at Baker Gilmore and Associates. He worked also as a senior consultant at BARRA International – a leader in financial risk management. Mr. Bodjov has Master's degrees in Economics from the University of National and World Economy in Sofia, Bulgaria and from the Université du Québec à Montréal. Mr. Bodjov is a CFA charterholder.