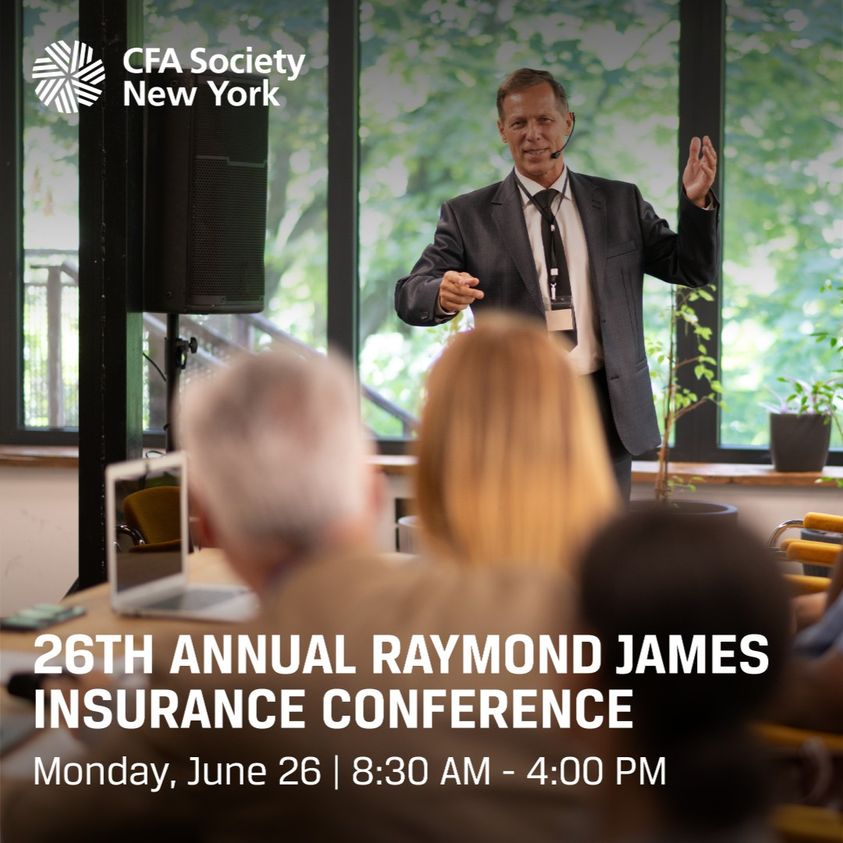 Wait! A Note on Registration:
We've launched Cvent—our new events platform!
Registration for any event with a start date after Sept. 28 now requires a CFA Institute account.
I don't have a CFA Institute account
No problem! You'll have the chance to create one prior to registration.
I already have a CFA Institute account
Great! Be sure to use your existing credentials at registration.
Cvent Transition Guide

⭢
Global Passport Program Eligible
Overview
The equity capital markets have experienced a challenging environment over the last year due, in part, to the Fed's actions to combat inflation and concerns of a potential recession. While the S&P 500 finished down 19% in 2022, the insurance sector outperformed with property/casualty insurance up 17%, life insurance up 7% and insurance brokers off only 1% in 2022. We are excited to announce that the 26th Annual Insurance Conference is set for June 26th at the headquarters of the CFA Society of NY, in New York City. The line-up will include C-suite executives from leading companies both public and private operating in the insurance industry. We expect participants to discuss new trends in insurance technology, pricing, and underwriting practices. We also expect to learn more about the M&A market in insurance brokerage.
Participating Companies
Accelerant empowers specialty underwriters, who we call Members, via our team of experts, transparent data, differentiated technology, and dynamic analytics – a recipe for profitable growth. We focus on unlocking each of our Members' unique capabilities to fully leverage their expertise in serving their policyholders. We support the needs of our Members across the US, Australia, UK, and Europe.
---
Ambac (AMBC) owns and operates specialty property and casualty insurance businesses. Our P&C companies specialize in program insurance, a fast-growing segment of the industry that targets niche classes of risk. Our strategy is to build and buy P&C-focused program underwriting and distribution companies, which we support and scale via our comprehensive business services platform. Our Legacy Financial Guarantee insurance business is being actively de-risked and has been in run-off since 2008.
---
Branch is home and auto insurance that's simple to buy and built for savings. Through its revolutionary instant-bind capability, Branch removes all of the friction associated with getting covered, helping consumers bundle their home and auto insurance with ease. Built as a reciprocal exchange, the Branch Insurance Exchange taps into the power of community to make insurance more accessible and affordable for everyone. Branch is a Public Benefit Corporation and Certified B Corporation committed to meeting high standards of social and environmental performance, and accountability. Branch was launched in 2019 by insurance veteran Steve Lekas and tech entrepreneur Joe Emison, and is headquartered in Columbus, Ohio. Branch is underwritten by the Branch Insurance Exchange, Everspan Insurance Company, and General Security National Insurance Company (GSNIC). To learn more, visit Branch.com.
---
Core Specialty is a specialty P&C insurer which focuses on small to mid-sized businesses in niche markets. Core Specialty operates under a business unit philosophy which allows its divisions local decision-making for underwriting, claims, and policy servicing. The company's divisions include Agriculture, Commercial Auto, D&O, E&O, Equine, Excess Casualty, Fronted Programs, Healthcare Professional Liability, Marine & Energy, Property, and Workers' Compensation.
---
Cover Whale, an insurtech founded by experienced insurance and technology veterans, focuses on technology, underwriting, and data to provide innovative insurance programs for the commercial trucking industry. Cover Whale's unique Driver Safety Program combines coverage with telematics, dash cams and real-time driver coaching to reduce claims, keep drivers safe and save lives on America's roads. Cover Whale delivers its product through more than 5,000 agents with the industry's fastest, most agent-friendly online quoting experience. Maintaining excellent agent relationships has driven more than $450 million in premium through the Cover Whale platform. With a fundamental belief that safe driving should be rewarded, Cover Whale-insured drivers may receive up to 20% off when renewing their auto liability policy. The company has been named one of America's Best Startup Employers on Forbes' 2023 list. For more information, visit www.coverwhale.com.
---
The Fortegra Group, a subsidiary of Tiptree, Inc (Nasdaq: TIPT), is a global specialty insurer. For more than 40 years, Fortegra and its subsidiaries have delivered risk management solutions that help people and businesses succeed in the face of uncertainty. As a global specialty insurer, Fortegra offers a diverse set of admitted and surplus insurance products and warranty solutions. Fortegra's A.M. Best Financial Strength Rating of A- (Excellent) is a result of rigorous underwriting standards and consistent profitability.
---
Gradient AI is a leading provider of proven artificial intelligence (AI) solutions for the insurance industry. Companies using its solutions improve loss ratios, reduce quote turnaround times,  claim duration, and claim costs.  Leveraging a vast database of millions of both policy and claim records, machine learning and natural language processing, Gradient AI's solutions drive better outcomes for underwriters and claim managers.  Customers include some of the most recognized insurance carriers, MGAs, TPAs, risk pools, PEOs and large self-insureds across all major lines of insurance. By using Gradient AI's solutions, insurers of all types achieve a better return on risk.
---
Hagerty (HGTY) is a leading provider of specialty vehicle insurance, expert car valuation data and insights, live and digital car auction services, immersive events and automotive entertainment custom made for the 69 million Americans who self-describe as car enthusiasts.
---
Hub International Limited is a leading full-service global insurance broker and financial services firm providing risk management, insurance, employee benefits, retirement and wealth management products and services. With more than 16,000 employees in offices located throughout North America, Hub's vast network of specialists brings clarity to a changing world with tailored solutions and unrelenting advocacy, so clients are ready for tomorrow.
---
SIAA is the largest alliance of independent insurance agencies in the United States with 49 regional master agencies and members comprising ~13% of all independent agencies. The company utilizes its unique relationships with strategic partner carriers and their provision of access to traditional and alternative markets to provide profit and equity appreciation opportunities to member agencies and competitive choices to consumers.
---
Skyward (SKWD) is a growing specialty insurance company that provides commercial P&C solutions on an admitted and non-admitted basis. Skyward has a niche underwriting strategy focused on underserved, dislocated markets where there are potential coverages gaps with standard and/or E&S policies. Skyward's customers typically require highly specialized, customized underwriting solutions and claims capabilities. Skyward writes multiple lines of business and distributes its products through various channels which allows management to respond to changing needs of commercial insureds. The company's strategy is referred to as "Rule Our Niche" which management believes creates a strong defensible market position, a competitive moat, and a winning culture in the company's chosen markets.
---
United Insurance Holding Corp. (UIHC) was founded in 1999 and is the insurance holding company for two P&C carriers: American Coastal Insurance Company (ACIC) and Interboro Insurance Company (IIC) along with other operating affiliates. ACIC has the #1 market share of commercial residential property insurance (commercial lines) in Florida with roughly 5,100 policies and $563 million of premium in-force. IIC's homeowners & fire insurance products (personal lines) are written exclusively in New York with roughly 18,000 policies and $31 million of premium in-force.
Presented in Partnership With