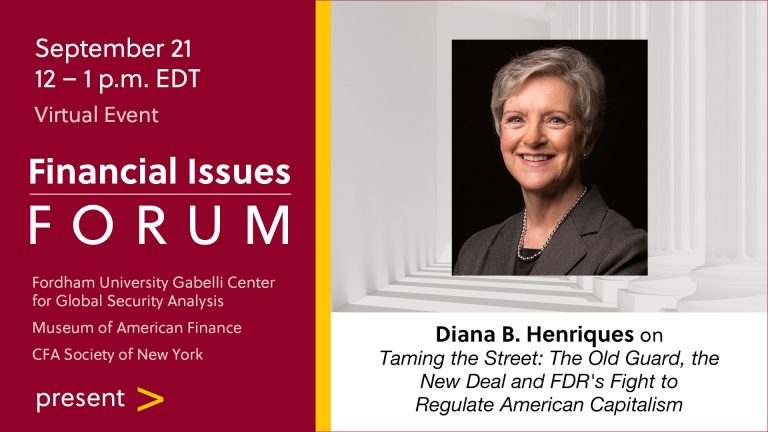 Wait! A Note on Registration:
We've launched Cvent—our new events platform!
Registration for any event with a start date after Sept. 28 now requires a CFA Institute account.
I don't have a CFA Institute account
No problem! You'll have the chance to create one prior to registration.
I already have a CFA Institute account
Great! Be sure to use your existing credentials at registration.
Cvent Transition Guide

⭢
Overview
Join The Gabelli Center for Global Security Analysis, in conjunction with the Museum of American Finance, and CFA Society New York, for a virtual program with award-winning financial journalist Diana Henriques on her latest book, Taming the Street: The Old Guard, the New Deal and FDR's Fight to Regulate American Capitalism. Taming the Street describes how President Franklin D. Roosevelt battled to regulate Wall Street in the wake of the 1929 stock market crash and the ensuing Great Depression.
About the Author
Diana B. Henriques is the author of five previous books, including the New York Times bestseller The Wizard of Lies: Bernie Madoff and the Death of Trust, which was adapted as an HBO film starring Robert De Niro and was cited in the widely watched Netflix documentary series, Madoff: The Monster of Wall Street. A staff writer for The New York Times from 1989 to 2012, she is a George Polk Award winner and a Pulitzer Prize finalist and she has received Harvard's Goldsmith Prize for Investigative Reporting, among other honors.
The first 100 guests will receive a FREE electronic copy of the book, courtesy of the Fordham Gabelli Center for Global Security Analysis.