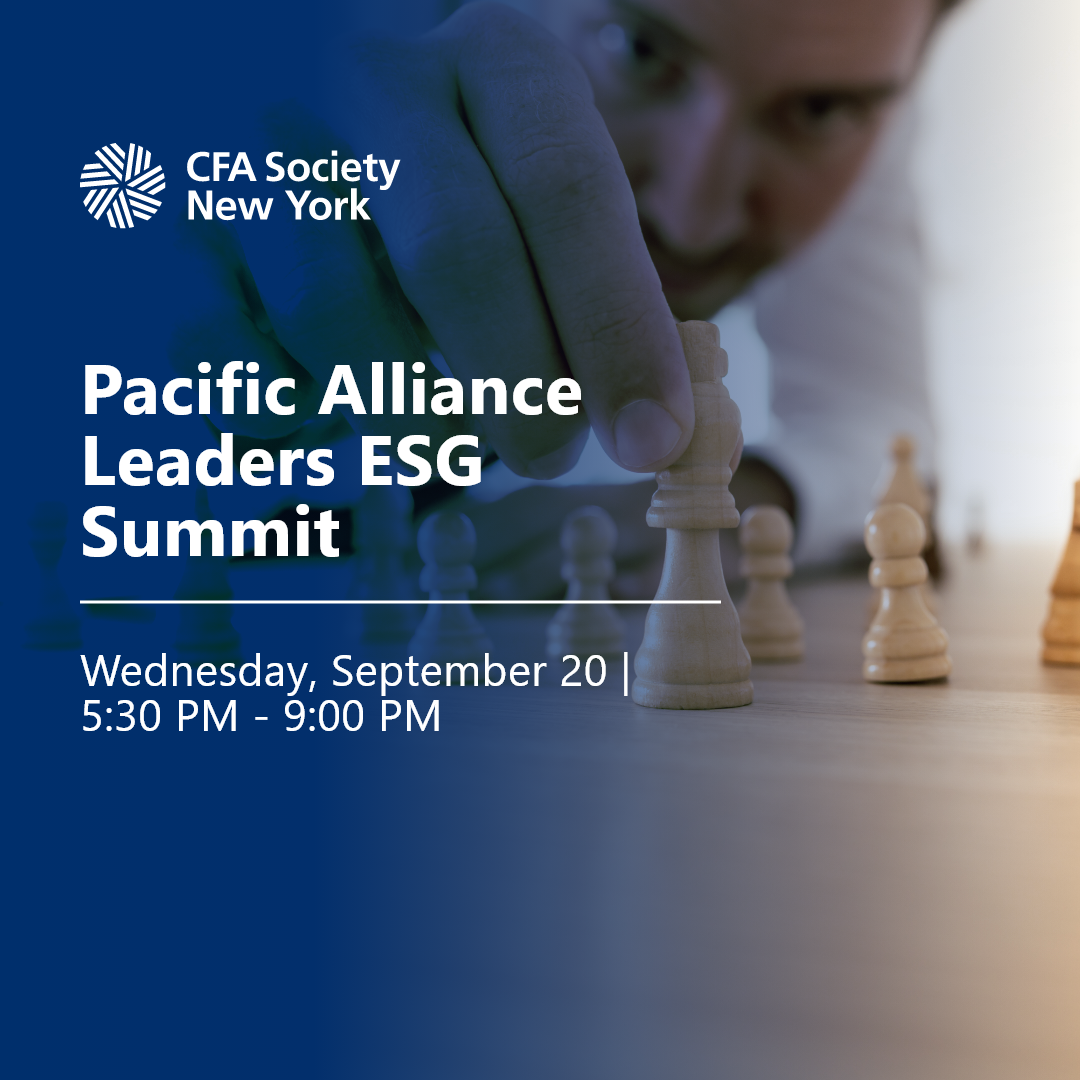 Wait! A Note on Registration:
We've launched Cvent—our new events platform!
Registration for any event with a start date after Sept. 28 now requires a CFA Institute account.
I don't have a CFA Institute account
No problem! You'll have the chance to create one prior to registration.
I already have a CFA Institute account
Great! Be sure to use your existing credentials at registration.
Cvent Transition Guide

⭢
Global Passport Program Eligible
Overview
This Asset Owner Series Summit will take a comprehensive look at topics directly affecting Latin American asset owners and companies. Hear from policy makers, international investors, asset managers and owners, and other experts on the most pressing issues facing Latin American investments today. Presenters will discuss political considerations on a regional and international scale, changing economic and regulatory policies that are impacting investment decisions, and ongoing risks.
Agenda
5:30 PM | REGISTRATION
---
6:00 PM | WELCOMING REMARKS
Melvin Escudero, CFA, Founder & CEO, El Dorado Asset Management, Chairman of the Council for Latam & Caribbean, CFA Institute.
Thomas Brigandi, CFA, Chair, CFA Society New York Board; Founder, CFA Society New York Asset Owner Series
---
6:05 PM | OPENING REMARKS
Rosa Bueno, President Pro Tempore, Pacific Alliance Business Council
Rosario Navarro, President of the Chilean Chapter, Pacific Alliance Business Council
Bruce Mac Master, President of the Colombian Chapter, Pacific Alliance Business Council
---
6:15 PM | SPECIAL PRESENTATION
 Alex Contreras, Minister, Peruvian Ministry of Finance
---
6:25 PM | PACIFIC ALLIANCE COUNTRIES OUTLOOK AND INVESTMENT OPPORTUNITIES
Moderator
Santiago Rojas Arroyo, North Regional Manager, CAF, Development Bank of Latin America
Panelists
Diego Pereira, Managing Director, J.P. Morgan
Martin Benitez, Head of Institutional Clients, Larrain Vial
Guy Nae, Head of Public Sector, Google Cloud SpLatam
---
7:00 PM | PROMOTING BUSINESS AND INVESTMENT OPPORTUNITIES IN THE PACIFIC ALLIANCE
Moderator
Fabrizio Opertti, Manager of Trade and Integration, Inter-American Development Bank
Panelists
Alberto van Klaveren Stork, Ministry of Foreign Affairs, Republic of Chile
Germán Umaña, Minister of Trade, Industry and Tourism, Republic of Colombia
Juan Carlos Mathews, Minister of Foreign Trade and Tourism, Republic of Peru
---
7:35 PM | CLOSING REMARKS
Ana Cecilia Gervasi, Minister of Foreign Affairs, Republic of Peru
---
7:40 PM | SPECIAL PRESENTATION: "THE PACIFIC ALLIANCE: NEW CHALLENGES"
Dina Boluarte, President, Republic of Peru, Pro Tempore President, Pacific Alliance Business Council
---
8:00 PM | NETWORKING PACIFIC ALLIANCE COCKTAIL