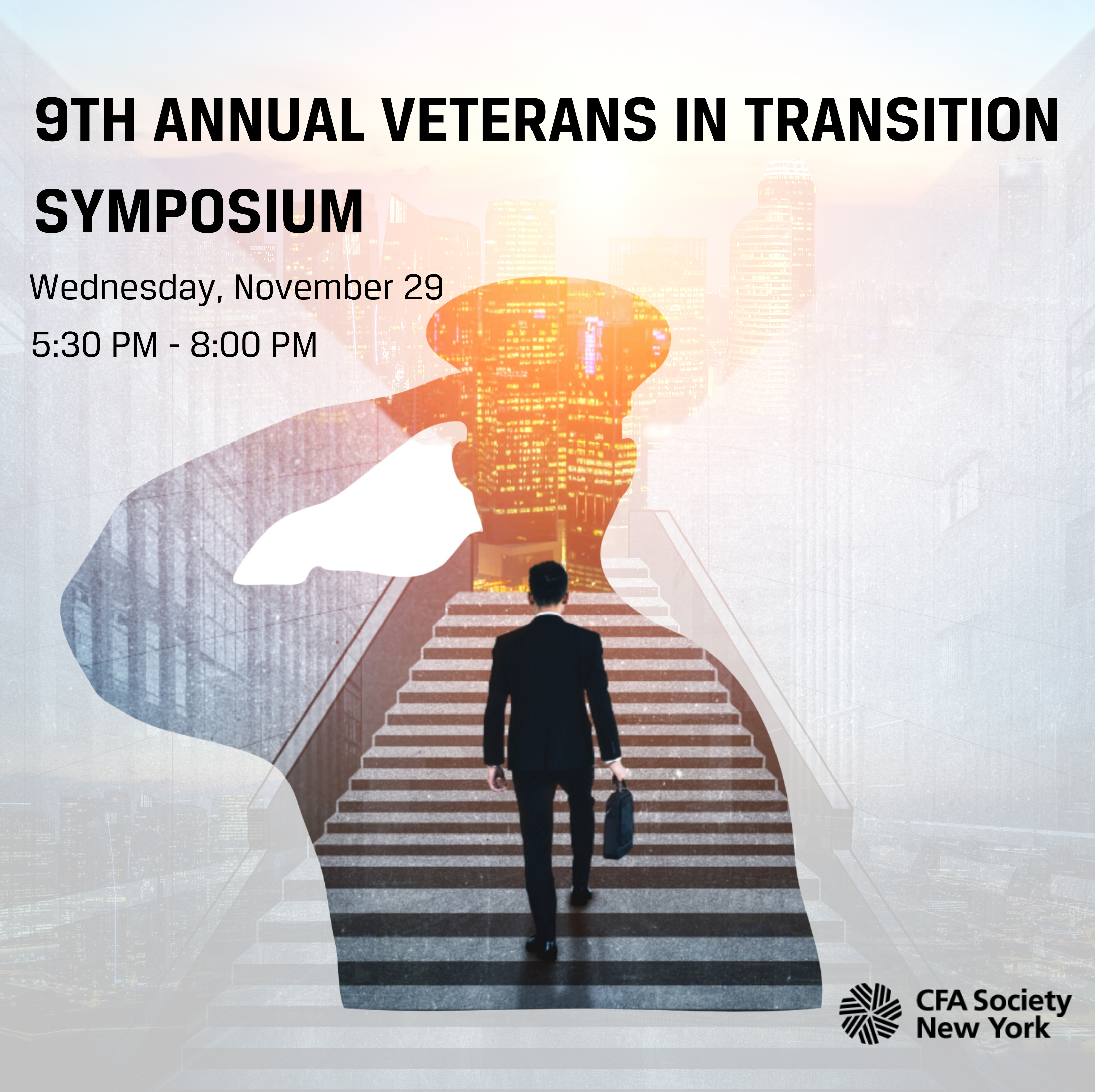 Wait! A Note on Registration:
We've launched Cvent—our new events platform!
Registration for any event with a start date after Sept. 28 now requires a CFA Institute account.
I don't have a CFA Institute account
No problem! You'll have the chance to create one prior to registration.
I already have a CFA Institute account
Great! Be sure to use your existing credentials at registration.
Cvent Transition Guide

⭢
Global Passport Program Eligible
Overview
Join our Veterans Roundtable group for an evening of conversation and networking that centers the experience and leadership capacity of military veterans. Learn how veterans and military spouses employed in finance can better take inventory of their strengths, preferences, and tolerances to make fulfilling long-term career decisions.
Agenda
5:30 PM | REGISTRATION 
---
5:55 PM | WELCOME REMARKS | INTRODUCE KEYNOTE SPEAKER
Won Palisoul, Chair of Veterans Roundtable, CFA Society New York
---
6:05 PM | KEYNOTE SPEAKER
The Honorable Dr. Kimberly McClain, Assistant Secretary, Congressional & Intergovernmental Relations, U.S. Department of Housing and Urban Development
---
6:20 PM | VETERAN TRANSITION PANEL 
Moderator
Lance Widner, CFA, CFP, US Navy 
Panelists
Michael Bocchini, Senior Director of Veterans' Claims Services, NYC Department of Veterans' Services
Benjamin Martinez, Vice President, Everside Capital Partners
Master Sergeant Lorena J. Wilson, Senior Enlisted Leader, US ARMY
---
7:00 PM | Q&A
---
7:10 PM | CLOSING REMARKS
Andrew Auslander, CFA,FRM, Treasurer, CFA Society New York 
---
7:15 PM | NETWORKING RECEPTION
Sponsor