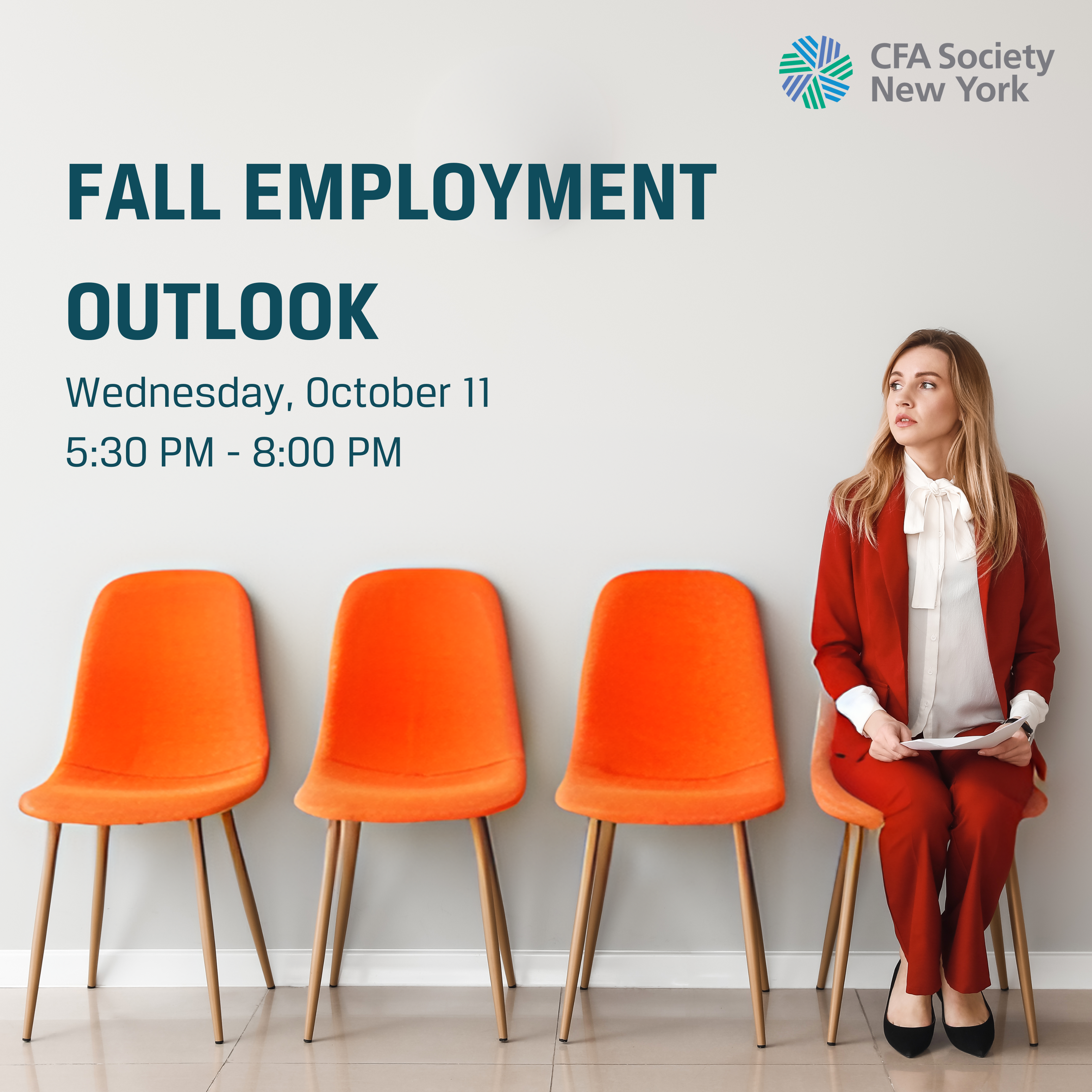 Wait! A Note on Registration:
We've launched Cvent—our new events platform!
Registration for any event with a start date after Sept. 28 now requires a CFA Institute account.
I don't have a CFA Institute account
No problem! You'll have the chance to create one prior to registration.
I already have a CFA Institute account
Great! Be sure to use your existing credentials at registration.
Cvent Transition Guide

⭢
Global Passport Program Eligible
Overview
Members considering a new position or hoping to properly prepare themselves for an eventual move will benefit from hearing about trends from the top of the financial services job market. The "Fall Employment Outlook" is a pivotal event tailored for members at the cusp of their career transitions. Whether you're contemplating a new role or strategizing to prime yourself for a future shift, this gathering offers invaluable insights. Delve deep into the evolving landscape of the financial services job market, with a keen focus on emergent trends, as viewed from industry frontrunners.
Agenda
5:30 PM | REGISTRATION
---
5:55 PM | INTRODUCTION
---
6:00 PM | KEYNOTE SPEAKER
Roy Cohen, Career Coach
---
6:20 PM | EMPLOYMENT PANEL DISCUSSION
Moderator
Peter Tannenbaum, President, Ramax Search, Inc.
Panelists
Robert Pestreich, Founder and Managing Partner, Harrison Stone, LLC.
Andrew Smith, Director, Long Ridge Partners
---
6:50 PM | Q&A
---
6:55 PM | CLOSING REMARKS
---
7:00 PM | NETWORKING RECEPTION
Additional Details
Understanding Market Dynamics
Predicting Future Trends
Networking and Collaboration
Skill Alignment and Enhancement