Asset Owner Series™ presents:
AOS Virtual Keynotes
A webinar series featuring perspectives from the world's leading asset owners and investment consultants by CFA Society New York, in partnership with CFA Institute and CAIA Association.
Asset Owner Series™ (AOS) is a collection of exclusive in-person events that have featured over 300 asset owner and investment consultant speakers. These speakers collectively represent organizations with over $70 trillion in fiduciary assets under ownership or advisory. Since its inception in 2015, AOS events have been attended by over 6,000 in-person attendees globally. AOS speakers have represented every asset owner category: sovereign wealth funds, insurance companies, single family offices, multi family offices, endowments, foundations, private banks, national pensions, corporate pensions, institutional investment consultants, central bank reserve funds, supranational development banks, public pensions and union pensions.
In light of COVID-19, CFA Society New York created AOS Virtual Keynotes in 2020—presented in partnership with CFA Institute and CAIA Association—to ensure CFA Society and CAIA members globally will still be able to access exclusive asset owner and investment consultant perspectives. Both the AOS and AOS Virtual Keynotes were created by Thomas Brigandi, CFA, Global Inaugural Outstanding Young Leader of the CFA Institute, and are driven by his team of over 500 industry leaders globally who source speakers from their respective networks.

About CFA Institute
CFA Institute is the global association of investment professionals that sets the standard for professional excellence and credentials. The organization is a champion for ethical behavior in investment markets and a respected source of knowledge in the global financial community. The end goal: to create an environment where investors' interests come first, markets function at their best, and economies grow. CFA Institute has over 178,000 members and 157 member societies.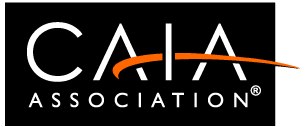 About CAIA Association
The CAIA Association is a global professional body dedicated to creating greater alignment, transparency, and knowledge for all investors, with a specific emphasis on alternative investments. A Member-driven organization representing professionals in more than 95 countries, CAIA Association advocates for the highest ethical standards. The organization provides unbiased insight on a broad range of investment strategies and industry issues, key among them being efforts to bring greater diversification to portfolio construction decisions to achieve better long-term investor outcomes.
Past Events

AOS Virtual Keynotes
Featuring Ben Meng, Ph.D., CIO, CalPERS
Hear from the CIO of CalPERS, Ben Meng, Ph.D., about their increased allocation to alternatives and greater use of leverage.

AOS Virtual Keynotes
Eric Kirsch (AFLAC); Stewart Foley, CFA (Insurance AUM Journal)
Significant market shifts often begin in the margins. The speakers on our August 16 webinar will share where they see risk and opportunity in small corners of this idiosyncratic market. Join us for an interview of Eric Kirsch (Global Chief Investment Officer and EVP of AFLAC), as conducted by interviewer Stewart Foley, CFA (Managing Partner and Editor-In-Chief of Insurance AUM Journal), focused on the details concerning their respective outlooks across an expansive range of subsectors.