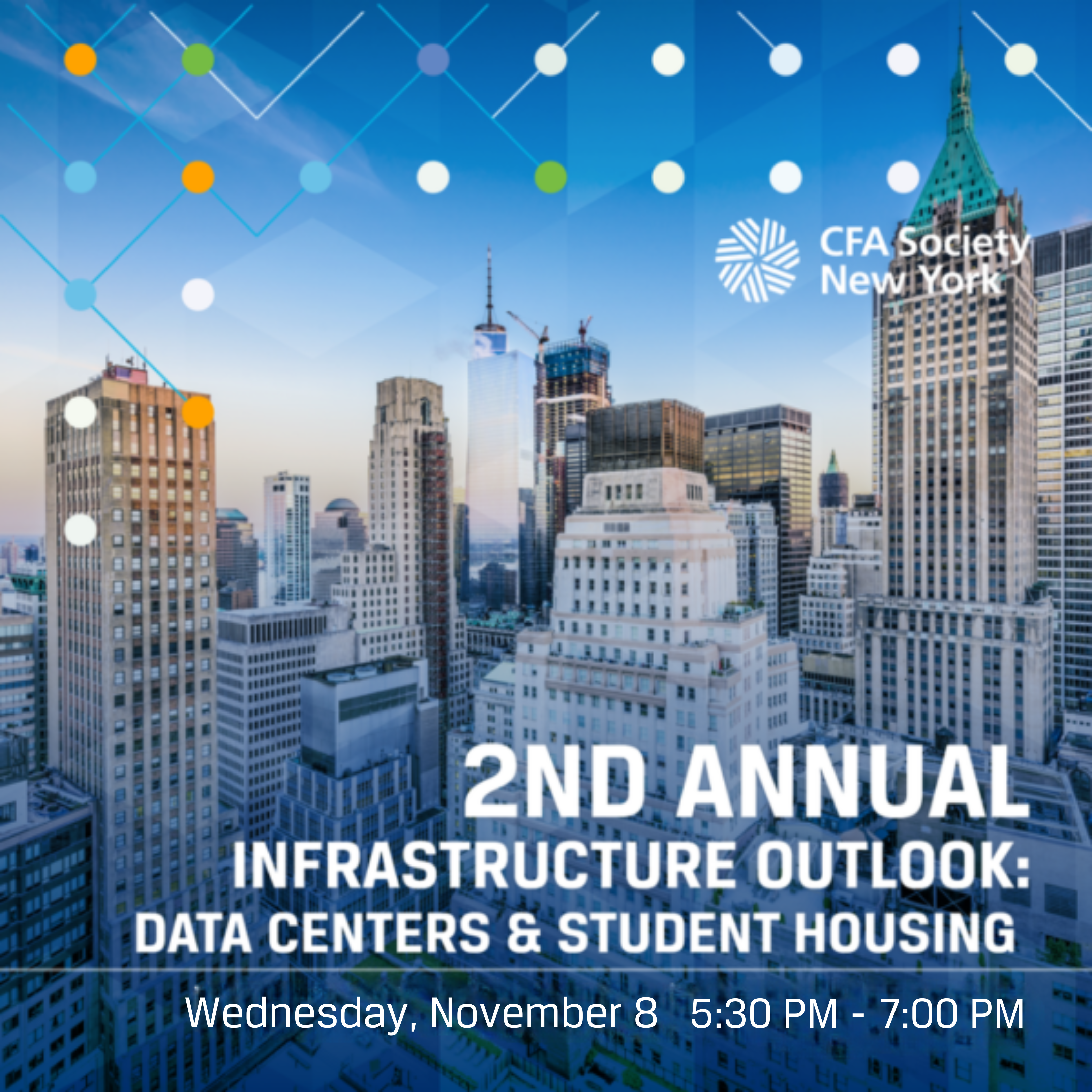 Wait! A Note on Registration:
We've launched Cvent—our new events platform!
Registration for any event with a start date after Sept. 28 now requires a CFA Institute account.
I don't have a CFA Institute account
No problem! You'll have the chance to create one prior to registration.
I already have a CFA Institute account
Great! Be sure to use your existing credentials at registration.
Cvent Transition Guide

⭢
Global Passport Program Eligible
Overview
As society has quickly adopted the 'internet-of-things,' 5G, and cloud computing, data centers have grown from a niche segment to a critical component of our nation's Infrastructure. The top four hyperscalers (Microsoft, AWS, Google, and Meta) are expected to invest approximately $1 trillion to keep up with demand, including from resource-heavy artificial intelligence. Historically this investment was done in-house, but now external financing is needed to help fill the void.
Similarly, student housing has garnered significant attention and investment in recent years as state and federal governments face increasing budget deficits, turning to private capital sources to build much-needed accommodation for a growing quality workforce. In the next four years, over 129 thousand beds are needed in the US at an average price of $100 thousand per bed, equaling more than $12 trillion of investment.
This event will help members understand these two fast growing sectors, related investment and lending opportunities, and associated risks.
Agenda
5:30 PM | REGISTRATION
---
6:00 PM | INTRODUCTION
Tom Schultz, CFA, CAIA, Principal Investment Analyst, Cornell University Office of Investments
---
6:05 PM | PANEL DISCUSSION
Moderator
Michael Ball, CFA, , Vice Chair of the Alternative Investments Group, CFA Society New York
Panelists
Edward Casserley, Principal, Stonepeak
Chea Hart, Principal, DigitalBridge
Jim Hennessy, Managing Director, Harrison Street
Michael Tranter, Managing Director, Infrastructure Finance, Sumitomo Mitsui Banking Corporation
---
6:45 PM | Q&A
---
6:55 PM | CLOSING REMARKS
Patrick Nessenthaler, CFA, CAIA, CRE, Vice Chair of the Alternative Investments Group, CFA Society New York
---
Additional Details
Learn what makes these alternative asset classes appealing to investors and lenders.

Learn who the main data center and student housing owners and tenants are. How do supply and demand look

for these sectors?

Learn the types of data centers (colocation, build-to-suit, hyperscale). What is contractually different between

these types (tenant lease, mechanical, electrical, plumbing, and server investments

)?

Learn where data centers are located and why. How are data centers built, and what are their key design and

investment considerations? What are the typical metrics around size? Any ESG considerations?

Learn which geographic areas have the best growth in university enrollment vs. housing stock imbalance. What

local factors enhance or detract from opportunities (credit history, labor, supply chain, NIMBY socioeconomic

events, moratoriums)?

Learn how are these financed during construction and upon stabilization (infrastructure style, real estate style,

ABS, CMBS, private placement, etc.).