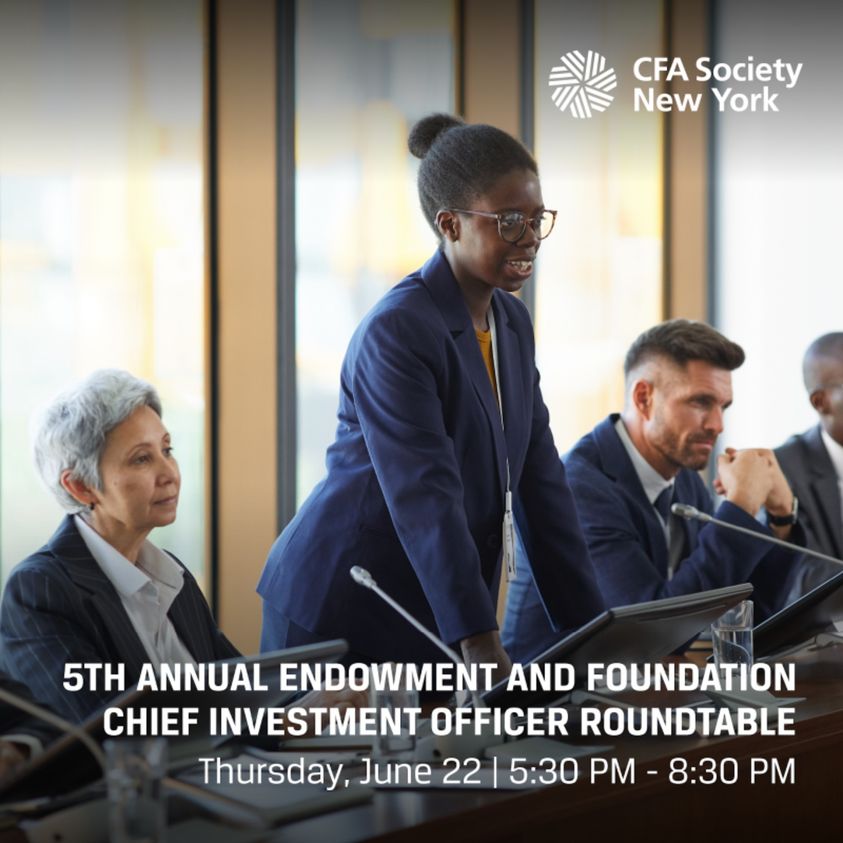 Wait! A Note on Registration:
We've launched Cvent—our new events platform!
Registration for any event with a start date after Sept. 28 now requires a CFA Institute account.
I don't have a CFA Institute account
No problem! You'll have the chance to create one prior to registration.
I already have a CFA Institute account
Great! Be sure to use your existing credentials at registration.
Cvent Transition Guide

⭢
Global Passport Program Eligible
Overview
The 5th Annual Endowment and Foundation Chief Investment Officer Roundtable will feature a high-level discussion on the implications of current market conditions and within this context, analyze trends in best practices in investment strategy, risk management and market engagement. As Endowments and Foundations are faced with a challenging return environment and higher market volatility, the outlook for future returns seems muted when compared to their impressive record of double digit growth generated in the recent past. Most are responding to the lack of readily evident market opportunities by investing in longer-term opportunities such as alternatives, exploring private markets and turning to strategic partners. As Endowments and Foundations seek to take a more hands-on approach to investment management and increase the complexity of their portfolios by moving into new markets, their perspectives and approach towards these goals offer a valuable lesson for investors.
Agenda
5:30 PM | REGISTRATION
---
6:00 PM | INTRODUCTION
---
6:05 PM | KEYNOTE SPEAKER
Jon Lukomnik, Founder, Sinclair Capital LLC
---
6:45 PM | PANEL DISCUSSION
Moderator
Monique Aiken, Managing Director, The Investment Integration Project
Panelists
Rini Banerjee, President, Jessie Smith Noyes Foundation
Bert Feuss, Senior Advisor, Community Capital Advisors LLC & Volunteer Investment Advisor, UC Davis Foundation & The California Endowment
Fran Seegull, President, U.S. Impact Investing Alliance
---
7:30 PM | CLOSING REMARKS
Texas Hemmaplardh, CFA, Partner, Mercer
---
7:35 PM | NETWORKING RECEPTION
Additional Details
Asset Allocation
Manager Search and Selection