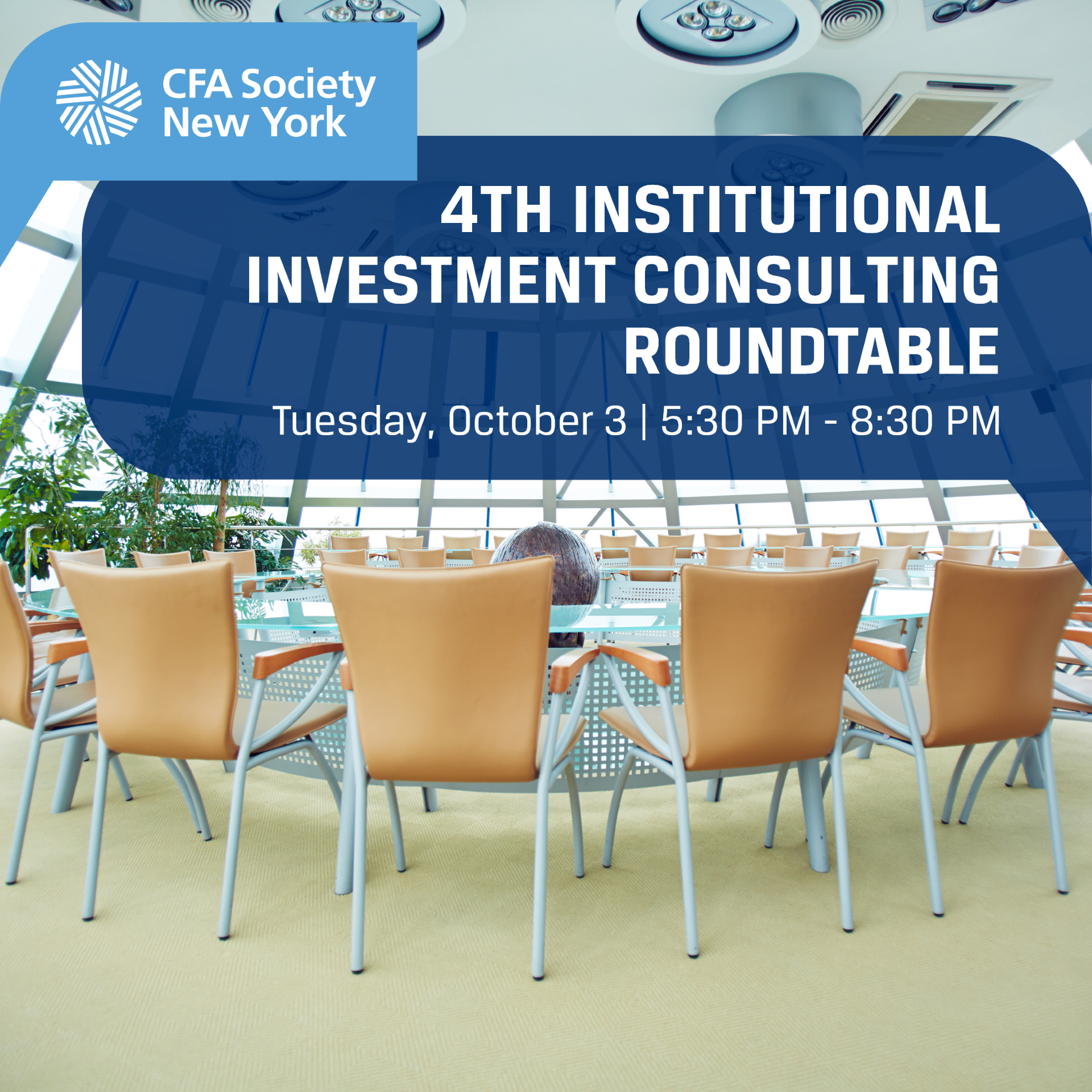 Wait! A Note on Registration:
We've launched Cvent—our new events platform!
Registration for any event with a start date after Sept. 28 now requires a CFA Institute account.
I don't have a CFA Institute account
No problem! You'll have the chance to create one prior to registration.
I already have a CFA Institute account
Great! Be sure to use your existing credentials at registration.
Cvent Transition Guide

⭢
Global Passport Program Eligible
Overview
The world of investment management consultants and Outsourced Chief Investment Officers (OCIOs) is undergoing a remarkable transformation. As the financial industry continues to evolve, so do the demands placed upon these professionals. This paradigm shift is profoundly influencing the very core of their responsibilities, particularly in the realms of due diligence and manager selection processes. To gain a comprehensive understanding of these emerging trends and learn how to strategically align your firm, we invite you to join us at this upcoming event. Here, you will have the unparalleled opportunity to discover the latest developments and gain insights that will empower your firm to thrive in this rapidly changing environment.
Agenda
5:30 PM | REGISTRATION
---
6:00 PM | INTRODUCTION
Chris Cutler, CFA, Founder, Manager Analysis Services
---
6:05 PM | KEYNOTE
David Bianco, CFA, Chief Investment Officer, Americas, DWS
---
6:20 PM | PANEL DISCUSSION
Moderator
Jason Josephiac, CFA, CAIA, Research Consultant
Panelists
Mike Chase, Partner, Head of Endowments & Foundations and OCIO, Fiducient Advisors
Bill Kennedy, CFA, CEO & Chief Investment Officer, RiskBridge Advisors
Timothy McEnery, CFA, Managing Director and Senior Consultant, Verus
Rich Nuzum, CFA, Executive Director, Investments & Global Chief Investment Strategist, Mercer
Floyd Simpson III, CFA, CAIA, CFP, Director, PFM Asset Management LLC
---
7:20 PM | CLOSING REMARKS
Chris Cutler, CFA, Founder, Manager Analysis Services
---
7:30 PM | NETWORKING RECEPTION
Additional Details
Comprehend Evolving Industry Trends
Master Modern Due Diligence Strategies
Navigate Manager Selection
Strategically Position Your Firm