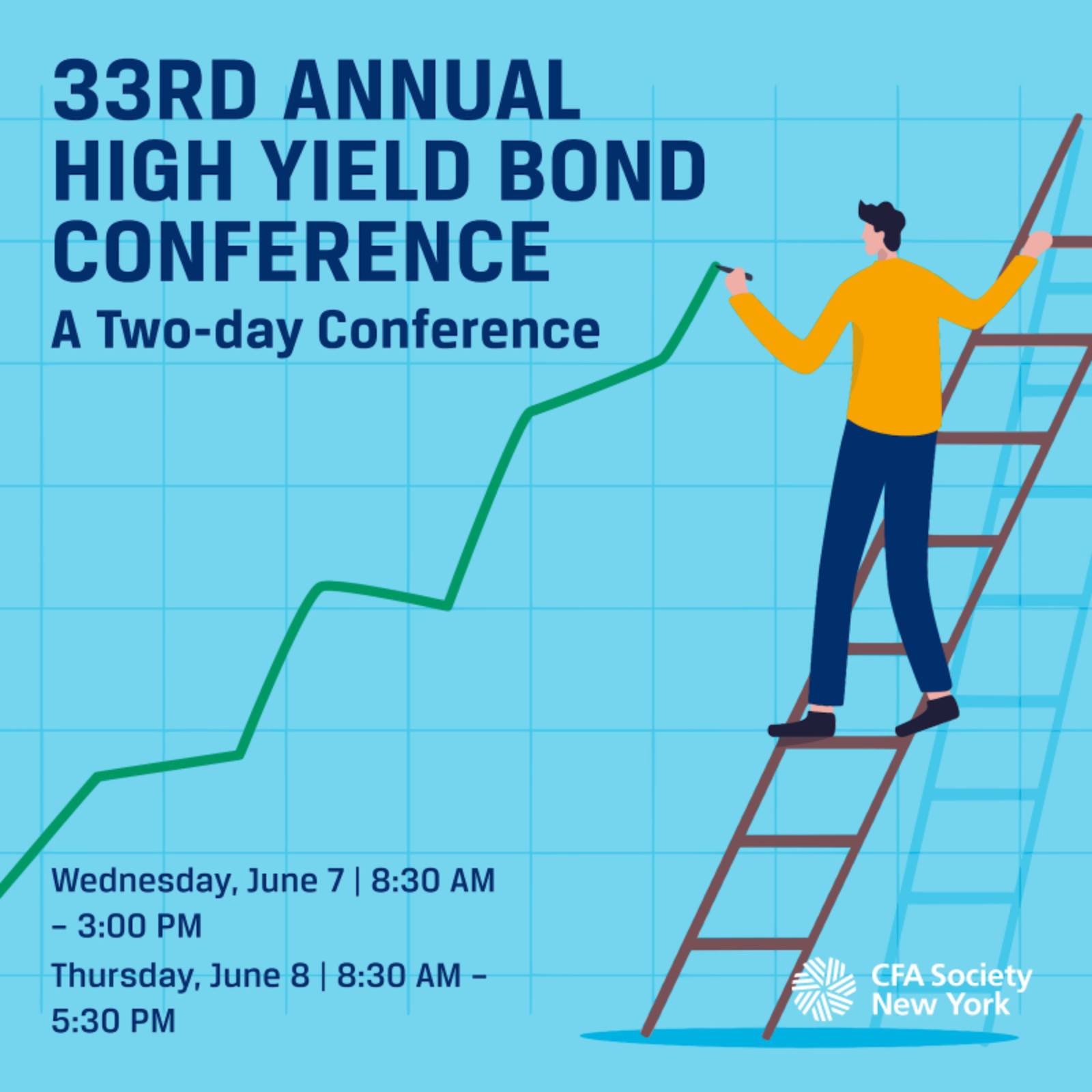 Wait! A Note on Registration:
We've launched Cvent—our new events platform!
Registration for any event with a start date after Sept. 28 now requires a CFA Institute account.
I don't have a CFA Institute account
No problem! You'll have the chance to create one prior to registration.
I already have a CFA Institute account
Great! Be sure to use your existing credentials at registration.
Cvent Transition Guide

⭢
Global Passport Program Eligible
Overview
The 33rd Annual High Yield Conference is a two-day event that brings together leading high-yield bond market professionals, investors, and academics to discuss the latest trends, opportunities, and challenges facing the high-yield market.
The conference will feature keynote speakers and panel discussions with experts from the high-yield bond market, including fund managers, credit analysts, economists, and other industry leaders. The speakers will share their insights on a range of topics, including market conditions, credit analysis, valuation techniques, and investment strategies.
In-Person
Nonmembers: $160 (Per Day)
Virtual
Nonmembers: $60 (Per Day)
Agenda
8:30 AM | REGISTRATION
---
9:00 AM | OPENING REMARKS
Martin Fridson, CFA, Chief Investment Officer, Lehmann Livian Fridson Advisors LLC
---
9:05 AM | HIGH YIELD BASICS
Judah Gross, Senior Director, Fitch Ratings
---
9:50 AM | COVENANTS
Evan Friedman, Senior Vice President/ Manager, Moody's Investors Service, Inc.
---
10:35 AM | COFFEE BREAK
---
11:00 AM | HIGH YIELD MARKET ORIGINS
Martin Fridson, CFA, Chief Investment Officer, Lehmann Livian Fridson Advisors LLC
---
11:45 AM | CORPORATE BANKRUPTCY PROCESS
Michael L. Cook, Of Counsel, Schulte Roth & Zabel
---
12:45 PM | LUNCH
---
1:15 PM | CREDIT ANALYSIS
Matt Zloto, Senior Special Situations Analyst, CreditSights
---
2:00 PM | HIGH YIELD ETFs
Brad Sullivan, CFA, Portfolio Manager, State Street Global Advisors
---
2:45 PM | CLOSING REMARKS
8:30 AM | REGISTRATION
---
9:00 AM | OPENING REMARKS
Martin Fridson, CFA, Chief Investment Officer, Lehmann Livian Fridson Advisors LLC
---
9:05 AM | HIGH YIELD MARKET OUTLOOK
Lotfi Karoui, Ph.D., Managing Director, Goldman Sachs
---
9:50 AM | CREDIT VIEWS
Sandy Burns, CPA, Managing Director, Head of High Yield Research, Stifel Nicolaus
David Hargreaves, Managing Director, Stifel Nicolaus 
---
10:35 AM | COFFEE BREAK
---
11:00 AM | NEW ISSUE MARKET
John Atkins, Managing Editor, PitchBook/LCD
---
11:45 AM | NEW RESEARCH FINDINGS
Martin Fridson, CFA, Chief Investment Officer, Lehmann Livian Fridson Advisors LLC
---
12:15 PM | EMERGING MARKETS CORPORATES
Katherine Renfrew, Managing Director, Nuveen
---
1:00 PM | LUNCH
---
1:30 PM | HIGH YIELD PREFERREDS
Jay Hatfield, CEO, Infrastructure Capital Advisors, LLC
---
2:15 PM | PORTFOLIO MANAGERS PANEL
Moderator
Martin Fridson, CFA, Chief Investment Officer, Lehmann Livian Fridson Advisors LLC
Panelists
Martha Metcalf, CFA, Head of Credit, North America, Schroders Investment Management
Francis Rodilosso, CFA, Head of Fixed Income, ETF Portfolio Management, VanEck
David Sherman, Managing Principal, Cohanzick Capital Management LLC
---
3:15 PM | COFFEE BREAK
---
3:30 PM | LEVERAGED LOANS
Jeffrey Gallo, SVP/ Co-Head of Liquid Credit, Shenkman Capital Management
---
4:15 PM | CLOSING REMARKS
---
4:20 PM | NETWORKING RECEPTION
Additional Details
The outlook for the high-yield bond market in the current economic environment
Credit analysis and research in the high-yield market
The impact of interest rate movements on high-yield bonds
Opportunities and challenges in the distressed debt market
The role of high-yield bonds in portfolio construction
The evolution of the high-yield market and its impact on investors