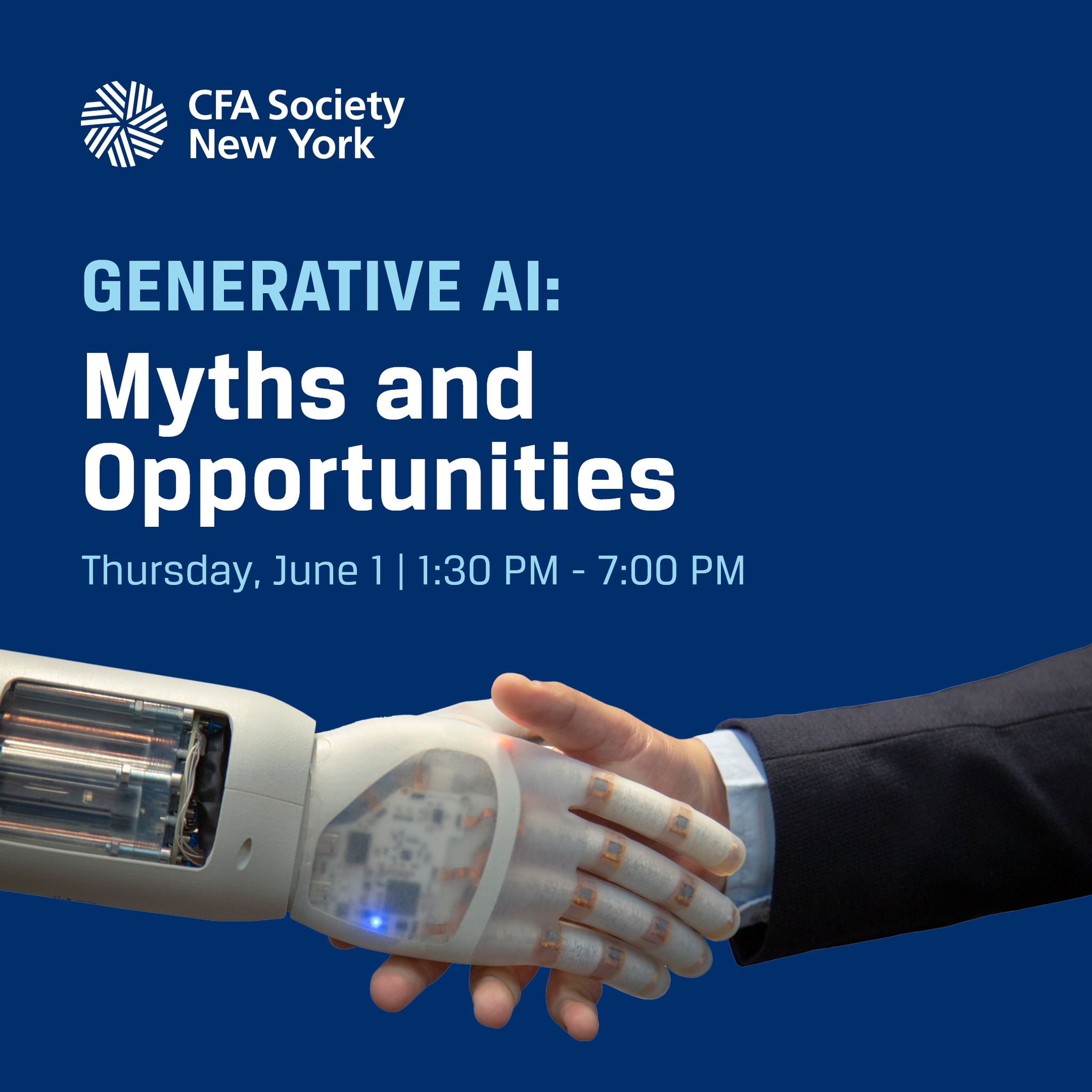 Wait! A Note on Registration:
We've launched Cvent—our new events platform!
Registration for any event with a start date after Sept. 28 now requires a CFA Institute account.
I don't have a CFA Institute account
No problem! You'll have the chance to create one prior to registration.
I already have a CFA Institute account
Great! Be sure to use your existing credentials at registration.
Cvent Transition Guide

⭢
Global Passport Program Eligible
Overview
ChatGPT has taken the world by storm. While consumers have embraced it as a personal assistant, enterprises (particularly regulated ones) need to proceed more cautiously. This event will convene experts from leading model providers, data suppliers and asset managers to help you understand why this technology represents a leap forward, what use cases it's best suited for and where it could go in the future.
Agenda
1:30 PM – REGISTRATION
---
2:00 PM – WELCOME & INTRODUCTION
---
2:05 PM – MODEL & TOOL PROVIDERS: UNDERSTANDING THE GENERATIVE AI BREAKTHROUGH
Moderator
Sara Elinson, Partner/ Principal, EY-Parthenon
Panelists
Malcolm deMayo, Global VP Financial Services Industry, NVIDIA Corporation
Eliot Knudsen, Director, Architecture, Databricks
Charles Morris, Chief Data Scientist for Financial Services, Microsoft
Leyla Samiee, Engineering Leadership – AI DevX, META
---
3:30 PM – INVESTOR PANEL: USING NLP/LLMs IN THE INVESTMENT PROCESS
Moderator
Gregory Zuckerman, Special Writer, The Wall Street Journal
Panelists
Carson Boneck, CFA, Chief Data Officer, Balyasny Asset Management
Gilbert Haddad, Ph.D., Head of Advanced Strategies and Research, Fidelity
Jonathan Larkin, Managing Director, Columbia Investment Management Co., LLC
Adam Salvatori, Managing Director, Head of Alpha Engineering and Digital Assets Lab, BlackRock
---
4:15 PM – DATA/SOLUTION PROVIDER PANEL: HOW GENERATIVE AI IS INCREASING THE UTILITY OF FINANCIAL DATA
Moderator
Christopher A. Coulthrust, Sr. Cloud Architect, Data & AI, Microsoft 
Panelists
Bryan Healey, Co-Founder and CTO, Aiera
Mahesh Ramachandran, VP, Head of News Technology, Thomson Reuters 
Mikhail (Misha) Shefter, Ph.D., Head of Analytics Research, LSEG
---
5:15 PM – MUSINGS ON THE FUTURE IMPACT OF LLMs ON FINTECH
Moderator
Bharat Krish, Board Advisor and Investor, Multiple Companies
Panelists
Scott Ernenwein, Strategic Partnerships Manager, Currencycloud
Monica Murthy, Director of Sales & Partnerships, Alloy
Ramona Ortega, Esq., CEO, WealthBuild
Joyce Shen, Investment and Operating Partner, Tenfore Holdings
---
6:00 PM – CLOSING REMARKS
Amy Young, CFA, Industry Digital Strategist, Microsoft 
---
6:05 PM – NETWORKING RECEPTION