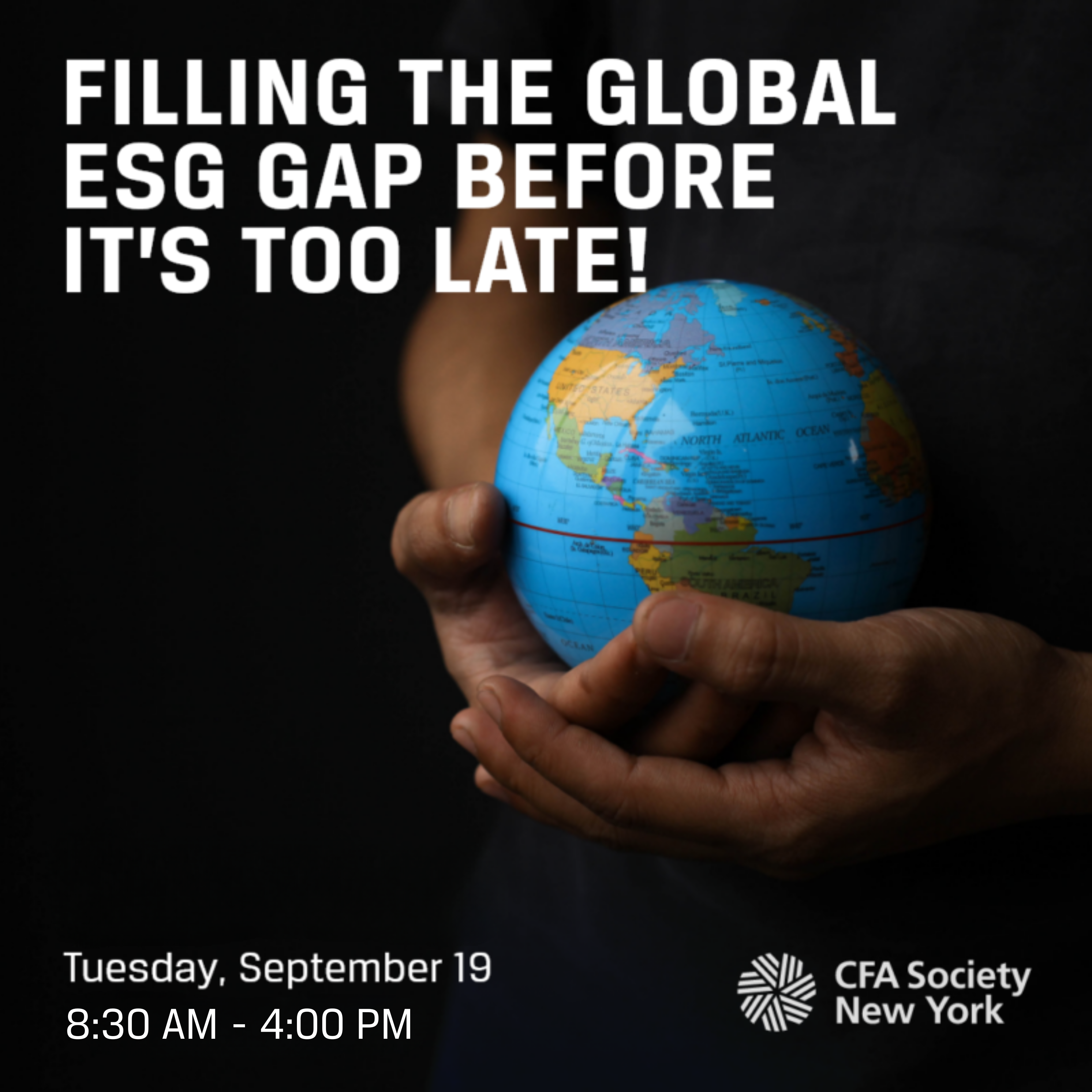 Wait! A Note on Registration:
We've launched Cvent—our new events platform!
Registration for any event with a start date after Sept. 28 now requires a CFA Institute account.
I don't have a CFA Institute account
No problem! You'll have the chance to create one prior to registration.
I already have a CFA Institute account
Great! Be sure to use your existing credentials at registration.
Cvent Transition Guide

⭢
Global Passport Program Eligible
Overview
The financial services industry has a long way to go to play its part in ESG and DEI change. With time running out, hear from global asset owners, local and federal government officials and other SDG experts about what we can do and how.
Agenda
8:30 AM | REGISTRATION
---
8:55 AM |OPENING REMARKS
Thomas Brigandi, CFA, Chair, CFA Society New York Board; Founder, CFA Society New York Asset Owner Series
---
9:00 AM | WHAT DOES BLENDED FINANCE NEED TO FILL THE SUSTAINABLE DEVELOPMENT FUNDING GAP?
Introduced by: Kamil Homsi, CEO, GRC Investment Group
Moderator
Krishnan Sharma, Chief, Strategic Engagement Unit, Financing for Development Office, United Nations
Panelists
Jay Collins, Vice Chairman of Banking, Capital Markets, & Advisory, Citi
Dr. Nnamdi Igbokwe, Director, Thought Leadership, Convergence
Emelly Mutambatsere, Manager, Development Impact Dept.- International Finance Corp., World Bank
Yana Watson Kakar, Managing Director and Head of Americas, CDPQ
---
10:00 AM | CAN SOVEREIGN BONDS CHANNEL INVESTMENTS TOWARD SUSTAINABLE DEVELOPMENT?
Introduced by: Mike Kroll, Ph.D., ESG Integration & Account Manager, Senior Lead, Responsible Alpha
Moderator
Tom Beloe, Chief of Programme at Sustainable Finance Hub, UNDP
Panelists
Jorge Ordonez, Director, Global ESG Sovereign Solutions, Citi
Maria del Pilar Garrido Gonzalo, Director for Development Cooperation, OECD
Marie Ottosson, Deputy Director-General, Sida
Thomas Tayler, Head of Climate Finance, Aviva Investors
Svetlana Klimenko, Global Lead for Sustainable Finance, World Bank
---
11:00 AM | PANEL
Introduced by: Katie Kolchin, CFA, Managing Director & Head of Research, SIFMA
Moderator
Dr. Hubert Danso, CEO & Chairman, Africa investor (Ai) Group, Chair, CFA Asset Owners Council
Panelists
Duncan Bonfield, Chief Executive, International Forum of Sovereign Wealth Funds
Jay Collins, Vice Chairman of Banking, Capital Markets, & Advisory, Citi
Erich Cripton, Director, Business Relations, CDPQ Global
Jarred Glansbeek, Executive Director, Chief Investment Officer, RisCura
Pedro Guazo, Chief Executive- Office of Investment Management, UN Joint Staff Pension Fund
Mahesh K. Kotecha, CFA, President, Structured Credit International Corp
Guly Sabahi, Senior Advisor on Climate Finance, NDC Partnership
---
12:00 PM | LUNCH
---
1:00 PM | PANEL
Introduced by: Deepika Sharma, CFA, Director, BlackRock
Moderator
Joyce Cacho, CFA, CAMS, CEO & President, Adinura Advisory Services, Inc. 
Panelists
Samantha Hill, Managing Director, Sustainable Investing, CPP Investments
Ariel Nicholas, VP, Climate Sales Specialist, MSCI
Juan Manuel Veron, CFA, CIO, México, Principal Financial Group México
---
2:00 PM | COFFEE BREAK
---
2:15 PM | KEYNOTE
Introduced by: Thomas Brigandi, CFA, Chair, CFA Society New York Board; Founder, CFA Society New York Asset Owner Series
Brad Lander, Comptroller, New York City
---
3:00 PM | CLOSING REMARKS
Antonio Rodriguez, CFA, Director of Investment Strategy, NYC Board of Education Retirement System 
---
3:05 PM | RECEPTION
Additional Details
Asset Allocation
Manager Selection
Manager Monitoring
ESG Integration
Platinum Sponsor

Sponsors